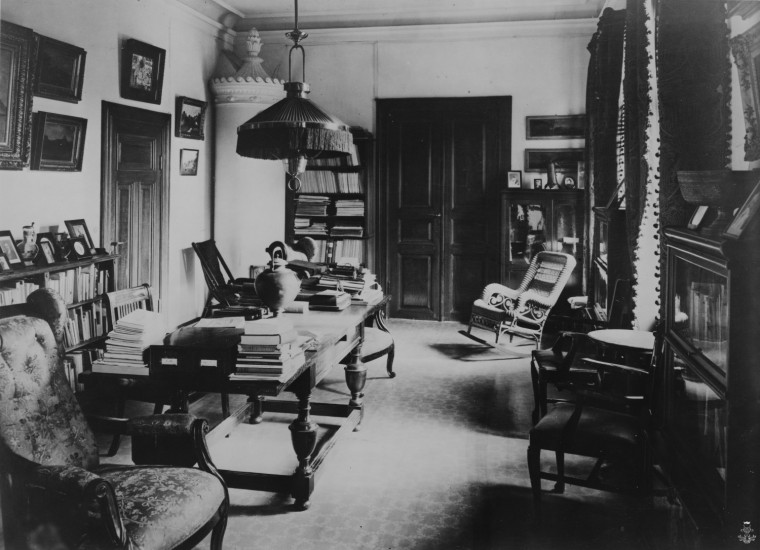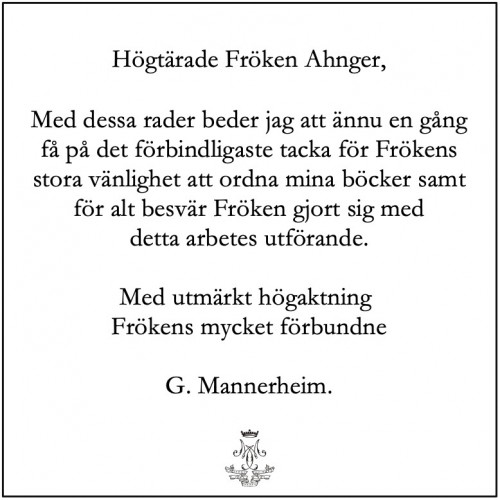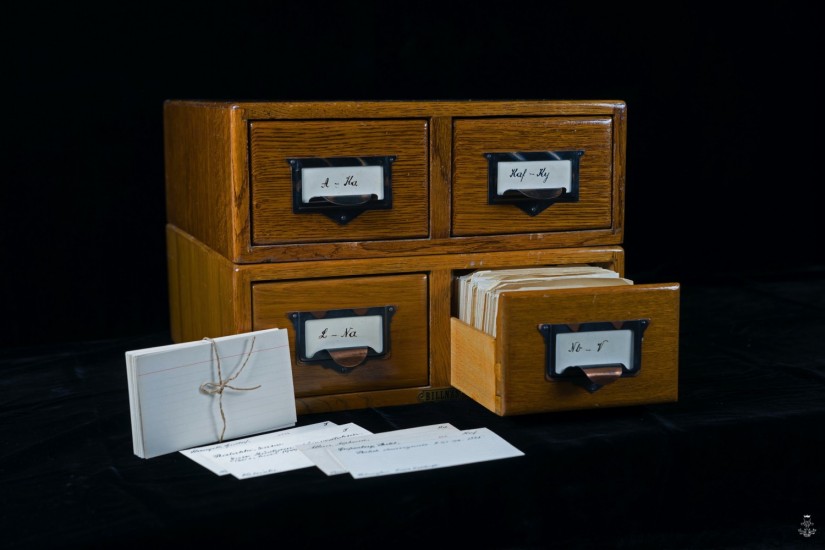 An exact date of when the cataloguing work begun is not known, but with the help of the photograph above, it is possible to estimate the beginning to the years 1920-1923. The photograph shows Gustaf Mannerheims home in Mariankatu, Helsinki. Mannerheim occupied this apartment during the mentioned years. A wooden casket with index cards inside can be seen on the table, between the two piles of books.
Luetteloinnin tarkkaa aloitusvuotta ei tiedetä, mutta oheisen valokuvan avulla aloitusajankohta voidaan rajata vuosiin 1920-1923. Valokuva on Mannerheimin Mariankadun kodista 1920-luvun alusta. Puinen kortisto näkyy kuvassa pöydän reunalla.
Den exakta tidpunkten när katalogiseringen påbörjades är inte känd, men med hjälp av fotot intill kan tidpunkten avgränsas till åren 1920-1923. Fotografiet är från Mannerheims hem på Mariegatan i början av 1920-talet. Kartoteket i trä syns i bilden på bordskanten.
An extract from a letter sent to Greta Ahnger by Gustaf Mannerheim, dated November 10th, 1928.
Lainaus Gustaf Mannerheimin arvoisalle Greta Ahngerille vuonna 1928 lähettämästä kirjeestä. Kirjeessään Mannerheim kiittelee arvoisaa neiti Ahngeria vuolaasti hyvin tehdystä työstä.
Ett utdrag ur brevet till Fröken Greta Ahnger den 10.11.1928. Mannerheim tackar högtärade Fröken Ahnger för hennes värdeful arbete.
The earliest cataloguing project at the Mannerheim Museum begun when Gustaf Mannerheim was still alive, and by his initiative. Mannerheim's personal home library had grown quite a lot by the 1920th century, up to over 2000 volumes. Mannerheim appointed miss Greta Ahnger, a professional in library cataloguing, to create a cataloguing system for his collection of books. So begun the cataloguing project that expanded to decades.
Mannerheim-museon varhaisin luettelointiprojekti
aloitettiin
jo Marsalkan elinaikana, hänen aloitteestaan. Gustaf Mannerheimin kotikirjasto oli 1920-luvun alkuun mennessä paisunut jo parintuhannen volyymin kokoiseksi. Mannerheim pestasi järjestely- ja luettelointityöhön kirjastoalan ammattilaisen Greta Ahngerin. Alkoi vuosikymmeniä jatkunut työ Mannerheimin kotikirjaston kortiston parissa.
Mannerheim-museets tidigaste katalogiseringsprojekt påbörjades redan under Marskalkens livstid, på hans initiativ. Gustaf Mannerheims hembibliotek hade fram till början av 1920-talet redan svällt upp till flera tusen volymer. Mannerheim anlitade ett biblioteksproffs, fröken Greta Ahnger, för att utföra organiserings- och katalogiseringsarbetet. Ett flera decennier långt arbete med Mannerheims hembibliotek och dess kartotek började.