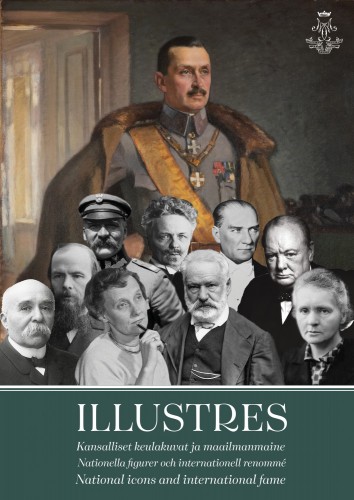 ILLUSTRES
National icons and international fame
Temporary exhibition at the Mannerheim Museum
4.6.-31.12.2021


Who's the greatest of them all? The new temporary exhibition at the Mannerheim museum takes a dive into the concepts of symbolization and glorification, national significance and international fame through the biographic history of Marshal Gustaf Mannerheim and other renowned Europeans. In Finland, Mannerheim may be the most famous person. Who is the equivalent icon in France? Who personifies 20th century Great Britain? Can the Poles agree on one figure as the great one in their history? How are these themes discussed in Sweden? A symbolic status can be achieved through many professions.


Some of Mannerheim's contemporaries raise questions about stepping into the spotlight during dramatic times, others symbolize transnational questions. Do these prominent figures of the past represent their countries? Or have they been given this, national and international, role by historians and aficionados?


The Mannerheim museum has together with other European home museums created a conversational exhibition where some distinguished individuals meet in an unexpected way. Personal belongings of these European celebrities are on display.
SPECIALGUIDNINGAR TILL UTSTÄLLNINGEN

En svenskspråkig guidning av specialutställningen Illustres - Nationella figurer och internationell renommé ordnas den 7 november 2021 kl 15.
Guide FD Kristina Ranki.

Förhandsanmälan: info (at) mannerheim-museo.fi